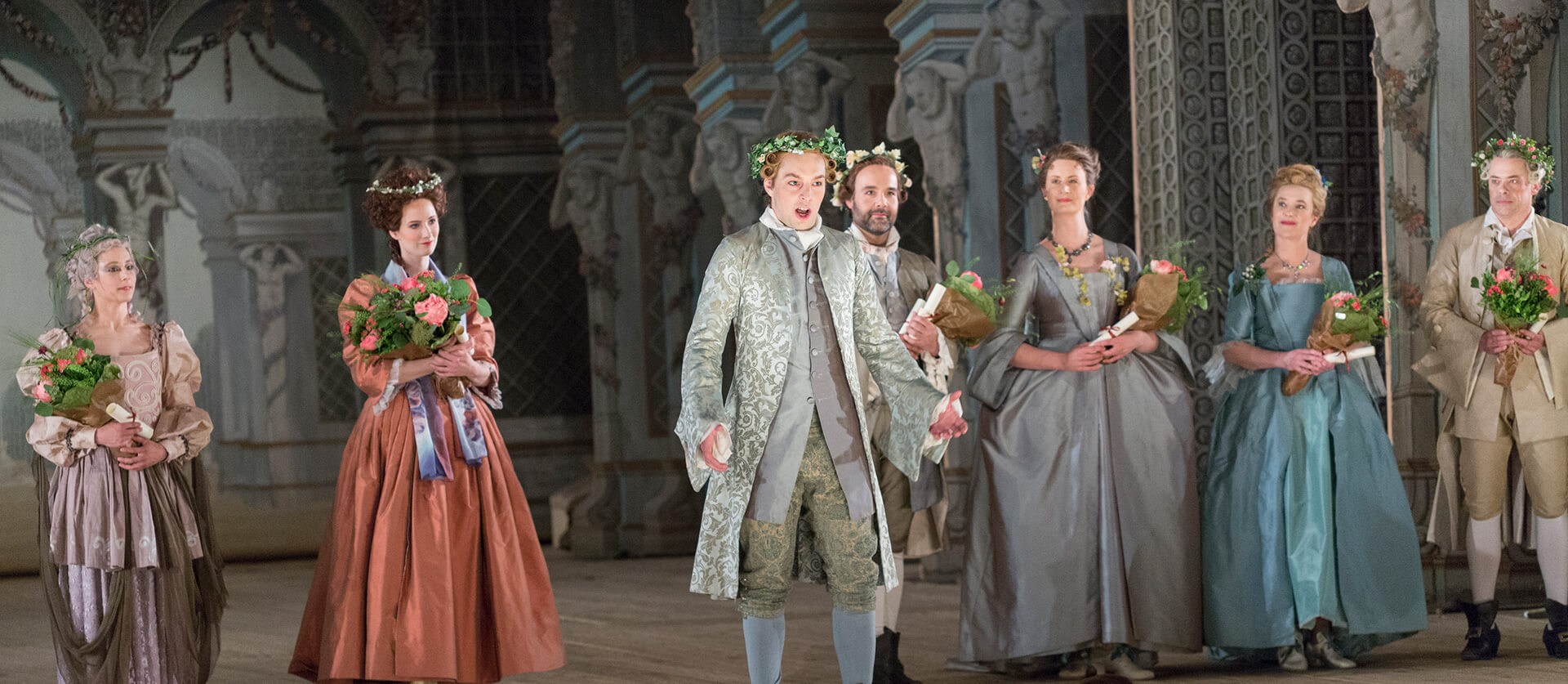 Photographer: Johan Jeppsson
Welcome to the Friends of Drottningholms Slottsteater
The main aim of the Friends of Drottningholms Slottsteater is to give long-term financial support to Drottningholms Slottsteater, so that the theatre can continue as an internationally respected stage for early opera in Sweden. This is made possible by membership fees, proceeds from capital, and contributions from individuals. The Association also awards training scholarships each year to young singers, dancers and musicians who have worked at Drottningholm Slottsteater.
The Friends of Drottningholms Slottsteater is a non-profit-making organisation established in 1935 and has some 1 600 members. HM the King is the Association's patron, HM the Queen the honorary chairwoman and HRH Crown Princess Victoria honorary member of the Friends.
Contact
Föreningen Drottningholmsteaterns Vänner (The Friends of Drottningholms Slottsteater) Box 6 S-178 02 STOCKHOLM Sweden. Telephone: +46 8 556 931 12 E-mail: dtv@drottningholmsteaternsvanner.se
Membership
The annual subscription for individual members is SEK 400, while for married couples and partners it is SEK 600, for young people up to 25 years of age SEK 150 and for business companies SEK 10 000. The subscription for life membership for individual members is SEK 10 000 and SEK 16 000 for couples and partners.
You can become a member of the Friends of Drottningholms Slottsteater by paying your subscription via SWIFT/BIC "NDEASESS" into our account (IBAN) number: SE79 9500 0099 6042 0152 1483 at Nordea Bank AB (publ.), SE-105 71 Stockholm. Please note that the Secretary's office needs to be notified of the names, addresses and e-mail addresses of everyone applying for membership. During the summer you will also be able to arrange and pay your subscription for membership in the theatre shop at Drottningholm.
Benefits
Apart from the programme offered by Drottningholms Slottsteater, members have access throughout the year to unique cultural events, interesting lectures, and visits to exciting eighteenth century venues. Musical and cultural expeditions are also arranged to places in Sweden and abroad. Membership benefits also include:
– Priority booking of tickets for performances at Drottningholms Slottsteater
– Participation in the draw for free tickets to dress rehearsals
– 20% discount on the usual range of items sold in the Theatre shop at Drottningholm
– Free entry to scheduled guided tours of Drottningholms Slottsteater.
– Free entry to Drottningholm Palace
– 15 % discount in Karamellan Café and Restaurant, Drottningholm